Andream 8.8" wireless Apple CarPlay + Android auto Head unit multimedia for BMW Series3 5 E60 E61 E63 E64 M5 E90 E91 E92 E93 M3
SKU: EW963WADCPXCCC
PRODUCT DESCRIPTION



This is a multimedia touch screen with built-in compatibility with Apple CarPlay and Google Android auto. It will replace your OEM screen and add the following features to your car:

Apple CarPlay (wired and wireless)

Android Auto (wired)

Play video or music from USB

The head unit Built-in microphone and supports Siri and Google Assistant either via voice keyword ('Hey Siri' / 'Okay Google') or by long-pressing the steering wheel voice button.
NOTE:

This unit is not an Android system. It must be connected to your phone (wired or wireless) to use

CarPlay

and

Android auto

functions. Without a mobile phone connected, you can only use the OEM system or simple music and video playback functions.
This unit outputs sound through AUX, please confirm that your car has AUX function before ordering.
This unit does not support AirPlay and screen mirroring.
HOW DOES IT WORK?
While the unit (CarPlay Head unit) is inactive, the original video signal is passed unchanged and your car works as before.

After activating the CarPlay Head unit, the CarPlay unit video signal is shown on the display instead.

When you reverse the car while using the CarPlay system, the system will automatically switch to the camera without manual operation.
You can easily switch back and forth between the box and your original head unit. (TIPS: Press and hold the "Menu" key to switch the system)

Using the CarPlay Head unit is optional and should be seen as an add-on and not as a replacement. 
COMPATIBLE MODELS:
For CCC system with OEM 6.5/8.8 screen
BMW 5 Series E60/E61 2003-2008
BMW 3 Series E90/E91/E92/E93 2005-2008
BMW M6 M5 2004-2009
For CIC system with OEM 6.5/8.8 screen
BMW 5 Series E60/E61 2008-2010
BMW 3 Series E90/E91/E92/E93 2008-2013
NOTE: Please make sure your car has AUX function. The CarPlay head unit outputs sound through AUX.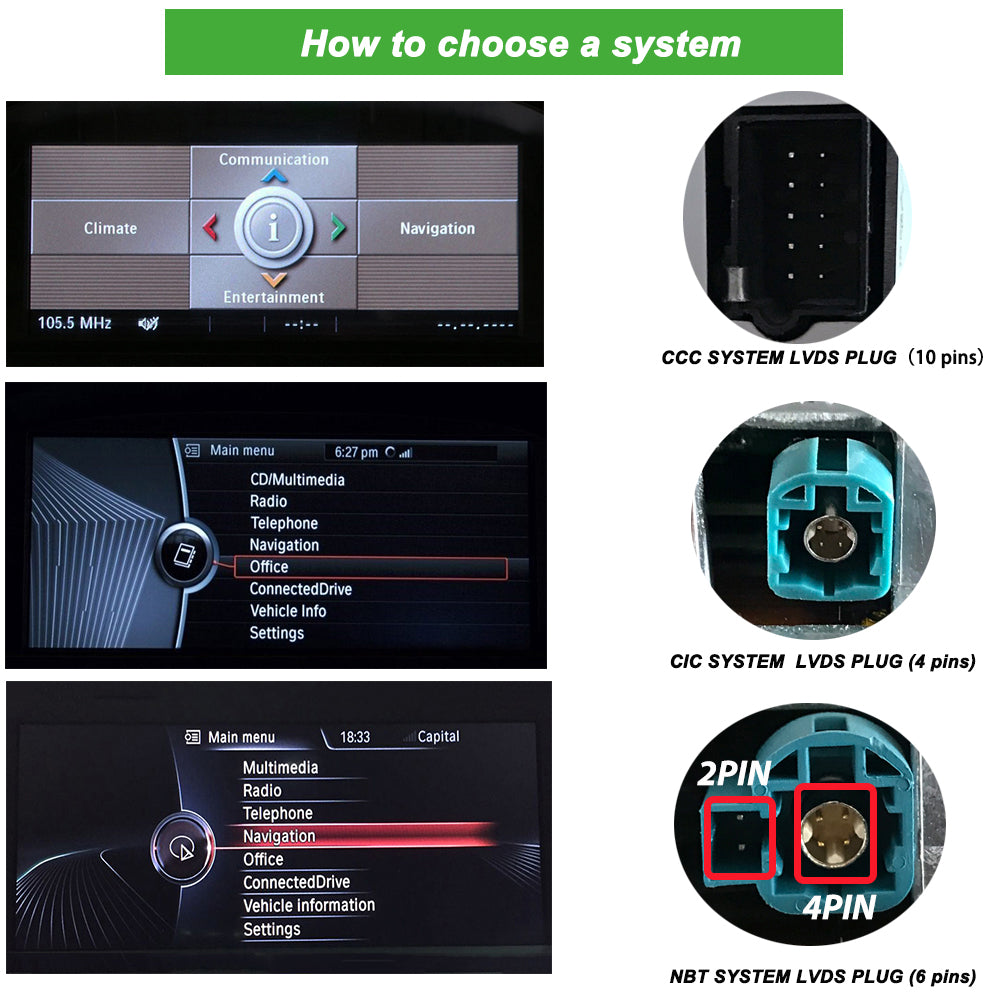 PRODUCT FUNCTION
Plug and play, no coding.
Compatible with all original OEM features. Contains steering wheel buttons, iDrive knobs, parking sensors, cameras, and more.
Switch to CarPlay or original system freely (press "Menu" Button on iDrive controller over 2 seconds to switch between two system easily).
Wireless or Wired Apple CarPlay(AirPlay is unavailable)
Wired Android auto(Screen mirroring is unavailable)
Siri voice control, knobs, buttons or touchscreen
Compatible original parking sensors
Compatible original cameras and aftermarket cameras(Front camera, Rear camera and 360-degree camera. Automatic switching when reversing)
PRODUCT INFORMATION
Product name:  8.8" wireless Apple CarPlay + Android auto  Head unit multimedia for BMW Series3 5 E60 E61 E63 E64 M5 E90 E91 E92 E93 M3
Brand:  Andream
Place of Origin: 
Guangdong, China
SKU:  EW963WADCPX
Warranty Policy:
  1
-Year warranty
Screen size:  8.8inch 
Screen type:  IPS
Resolution:  1280*480
WIFI:  Built-in
USB port:  1
PACKAGE

Single Package Size: 32cm*20cm*16cm
Single gross weight: 3KG

1 * Touch Screen
1 * Power Cable
1 * USB Cable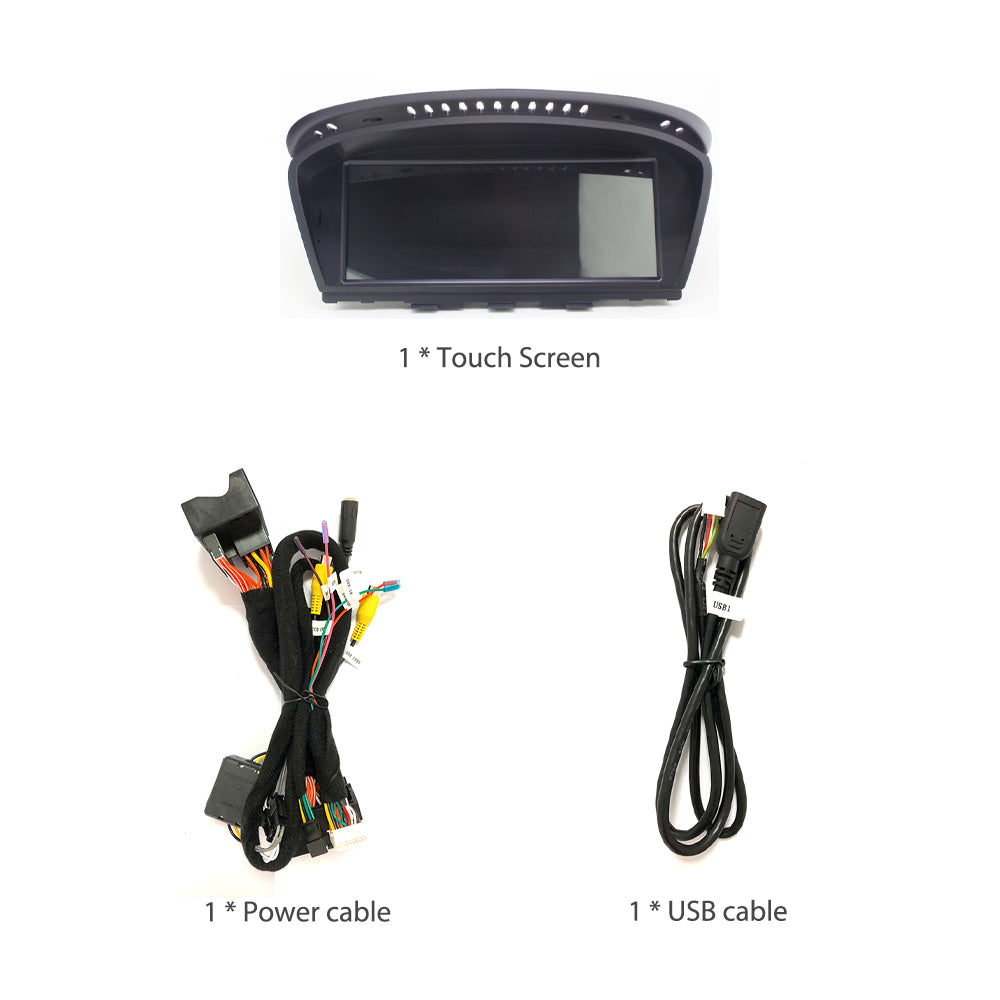 SCREENSHOT OF SETTINGS:












 Free shipping
It's tax free for all the shipping area we supported. 
Shipping country list
Delivery Time
EU countries

Austria, Belgium, Bulgaria, Czech,Cyprus, 
Republic, Denmark, Estonia, Finland, France, 
Germany, Greece, Hungary, Ireland, Italy, Latvia, 
Lithuania, Netherlands, Poland, Portugal, Romania, 
Slovakia, Slovenia, Spain, Sweden, United Kingdom,

NO TAX / NO VAT

2-7 days

North America

United States

NO TAX / NO VAT

7-10 days

Europe,Oceania

Russia,  Australia

NO TAX / NO VAT

10-20 days

 Asia
Japan, South Korea,  Singapore
 

NO TAX / NO VAT

7-10 days

Shipping Partners
We currently maintain cooperative relationships with DHL and 4PX. Our commitment to our customers is to assure the delivery reaches its destination in the quickest manner with the lowest cost.
Warranty
 Policy
All Andream devices have a 1-year limited warranty.
Within 3 months of receiving the product, if your item is damaged (non-human damage) or defective, you only need to return it and we will send you a brand new device.
Within 3 months to 1 year of receiving the product, if your item is damaged (non-human damage) or defective, you only need to return it, we will repair it for you for free and send it to you again. (We will pay for the shipping cost of sending it again.)
For warranty support, please email us at  jenly.ewayinggps@gmail.com.
This limited warranty does not cover failures due to abuse, accidental damage, or when repairs have been made or attempted by anyone other than Andream INC. No liability on this warranty shall be incurred in the respect to damage or loss occurring during transit to or from the purchaser. This warranty is personal to the original purchaser and is nontransferable. This warranty gives you specific legal rights and you may also have other rights which vary from state to state.
Refund Policy:
If the product has a hardware failure, please email jenly.ewayinggps@gmail.com within 30 days of original purchase for instructions on how to return Andream for a full refund or exchange.

Note:
Return shipping costs are responsibility of the buyer.
If you just want to replace the new equipment, we will send you the new equipment after receiving the returned package. We will pay the shipping cost to be sent to you again.
Good quality, works well, easy to install.
Delivery took six days to the UK. I was impressed with the build quality of the unit, it feels sturdy. It took me under an hour to install, the hardest part was removing the existing stereo trim. As others reported glare from the screen, I fitted an anti glare screen protector (£2 from eBay) which helps a lot. CarPlay with iOS 13 works very well via both a wired or wireless connection. Siri works perfectly, and the microphone volume seems fine. The audio volume is slightly quieter than the CD/radio, but not by much. Overall I am very pleased with it, CarPlay makes my car feel 10 years newer.
I will give it four stars overall, firstly because the steering wheel forward/back track buttons do not work, despite a previous answered question on this page saying they do. Secondly, I find that music tracks stutter/pause occasionally when using either wired or wireless connection. But I have searched for this issue online, and it seems other people with different systems are also experiencing it, so it may be an issue with CarPlay or iOS rather than this unit. If they can fix these issues with a software update, I would give it 5 stars. And also I agree they should include a manual, or a more professional installation video.
If you would like to see a video of my unit in action, I have created one here: https://www.youtube.com/watch?v=OeDof_KpIUI
Works as advertised
Installing the unit was not that hard, I have never done anything like it and was done in two hours I closing routing the cable to the armrest where my phone sits. A short manual would have been welcome but I managed without it as well.
The unit works well, switching between the CCC and the Android system works smoothly. The volume is more than enough to play music loudly. Google Assistant/Siri is accessible from the steering wheel button. Other features are accessible via either touchscreen or the iDrive button (you pick).
The split screen functionality is really cool so you can navigate with Google maps and have Spotify on the right to easily check and manage your music.
I found only a few drawbacks. One was the missing manual, the other ones are with the screen itself. The screen has quite a glare and when weather is a bit bright it's very hard to see the screen. I turned the brightness up to 100% but to no avail. I do see that the screen can be brighter but it seems to switch to a lower brightness shortly after setting 100%. The glare I did fix with a screenprotector with anti glare coating, this fixes the problem for the most part but alas not entirely.
If there is a way to set more than 100% brightness I'd love to hear it as the screen does have that mode...
Fantastic Unit, Makes my BMW modern again
Good product and great service
Great product (for the price). My only complaint is that the screen is very reflective and you can't adjust the brightness.
Great unit for the car
Recieved the unit within 3 days (Netherlands) in perfect order. Instalation is easy. The only problem was that i had no audio on the left speakers. They where quick to help en reacted within 1 day.
Great piece of kit
Very glad I bought this product, and the staff over at Andream were fantastic when I realized the cheaper model without android was not the one I wanted. I was promptly sent an invoice for the extra 100 or so Euros and the item was shipped and received 5 days later. Installation isn't terribly hard, though it might take an hour or two. Whilst the product does work with the idrive controller, it seems to have limited functionality, and can only flick through some menu items. Sadly Netflix can't be installed either.
I'd love to give it a 5, but for those reasons I think it's a 4 star product. Definitely made the car 10 years newer! I'd recommend to anybody. Looks the business.
apple carplay e61
received the radio in good order. looks sturdy and a lot larger image than original. I think it is strange that there is no description for assembly, but I did receive this after contacting the supplier in the form of a pdf. after placing I am very satisfied with the image, speed and sound. all steering wheel and button controls work as before. this radio is definitely worth my money.
Great product and great service
I'm really pleased with this product. The delivery only took about a week and the staff have been brilliant. It was very easy to install and works great. To be critical it would be perfect if only the tracks would skip with the steering wheel controls, the volume works with the steering wheel and also the voice button just not the up and down, despite this I would highly recommend. Thanks (The only reason it wasn't five stars is due to the up and down button non-compatibility otherwise it would have been five)
Good quality, decent shipping time
Screen fits perfect, WiFi CarPlay works perfect, Android Auto with cable works pretty good. No installation instructions included, but still straight-forward to install, as long as you remember to relocate optical bus connector from original radio headunit connector to supplied connector. I had one connector in cable harness that I don't know what's the purpose of that is (4-pin male). Everything works still perfectly.
I also bought a tailgate handle with reverse camera, but it won't fit and customer service refuses to accept the fact that the switch in handle is 5mm too high, even though I've sent multiple pictures. I'm a car electrician/mechanic myself, so I'm pretty sure I know what I'm talking about.
Andream 8.8" wireless Apple CarPlay + Android auto Head unit multimedia for BMW Series3 5 E60 E6...
Very happy with this product and the seller. delivered fast