Andream 10.25" / 8.8" wireless Apple CarPlay + Android auto multimedia Head unit for BMW Series3 4 F30 F31 F34 F32 F33 F36 F80
SKU: EW960WADCP

PRODUCT DESCRIPTION



This is a multimedia touch screen with built-in compatibility with Apple CarPlay and Google Android auto. It will replace your OEM screen and add the following features to your car:

Apple CarPlay (wired and wireless)

Android Auto (wired)

Play video or music from USB

The head unit Built-in microphone and supports Siri and Google Assistant either via voice keyword ('Hey Siri' / 'Okay Google') or by long-pressing the steering wheel voice button.
NOTE:

This unit is not an Android system. It must be connected to your phone (wired or wireless) to use

CarPlay

and

Android auto

functions. Without a mobile phone connected, you can only use the OEM system or simple music and video playback functions.
This unit outputs sound through AUX, please confirm that your car has AUX function before ordering.
This unit does not support AirPlay and screen mirroring.
HOW DOES IT WORK?
While the unit (CarPlay Head unit) is inactive, the original video signal is passed unchanged and your car works as before.

After activating the CarPlay Head unit, the CarPlay unit video signal is shown on the display instead.

When you reverse the car while using the CarPlay system, the system will automatically switch to the camera without manual operation.
You can easily switch back and forth between the box and your original head unit. (TIPS: Press and hold the "Menu" key to switch the system)

Using the CarPlay Head unit is optional and should be seen as an add-on and not as a replacement. 
COMPATIBLE MODELS:
BMW 3 Series
F30/F31/F34/F80      02/2012-11/2012
BMW 3 Series
F30/F31 (2012-2015)     F34 (2013-2015)
BMW 4 Series
F32 F33 (2013-2015)     F36 (2014-2015)
If your car is 2012 or 2013 3 Series/4 Series BMW. Please be sure to check the LVDS cable. 4PIN IS CIC, 6PIN IS NBT.
NOTE: Please make sure your car has AUX function. The CarPlay head unit outputs sound through AUX.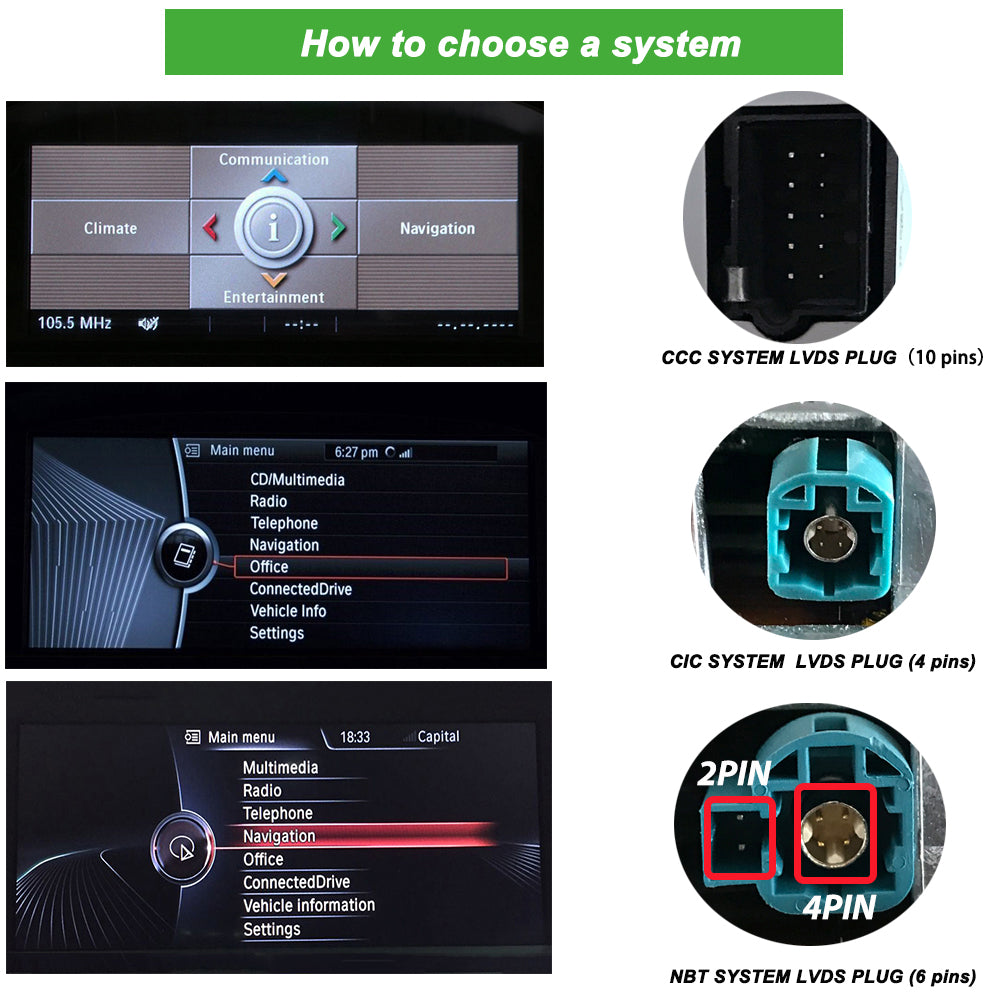 PRODUCT FUNCTION
Plug and play, no coding.
Compatible with all original OEM features. Contains steering wheel buttons, iDrive knobs, parking sensors, cameras, and more.
Switch to CarPlay or original system freely (press "Menu" Button on iDrive controller over 2 seconds to switch between two system easily).
Wireless or Wired Apple CarPlay(AirPlay is unavailable)
Wired Android auto(Screen mirroring is unavailable)
Siri voice control, knobs, buttons or touchscreen
Compatible original parking sensors
Compatible original cameras and aftermarket cameras(Front camera, Rear camera and 360-degree camera. Automatic switching when reversing)
PRODUCT INFORMATION
Product name:  10.25" / 8.8" wireless Apple CarPlay + Android auto multimedia Head unit  for BMW Series3 4 F30 F31 F34 F32 F33 F36 F80
Brand:  Andream
Place of Origin: 
Guangdong, China
SKU: EW960WADCP-P
Warranty Policy:
  1
-Year warranty
Screen size:  

10.25" / 8.8" 
Screen type:  IPS
Resolution:  1280*480
WIFI:  Built-in
USB port:  1
PACKAGE

Single Package Size: 32cm*20cm*16cm
Single gross weight: 3KG

1 * Touch Screen
1 * Power Cable
1 * USB Cable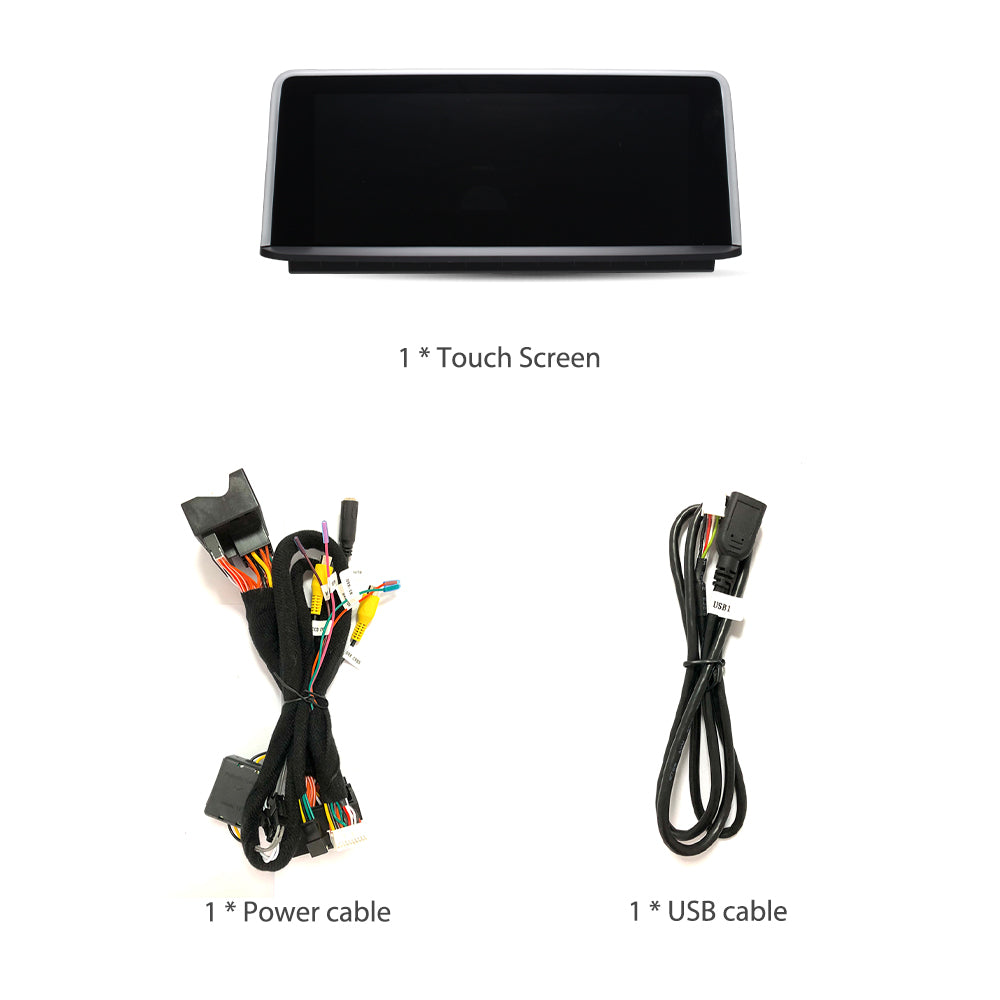 SCREENSHOT OF SETTINGS:












 Free shipping
It's tax free for all the shipping area we supported. 
Shipping country list
Delivery Time
EU countries

Austria, Belgium, Bulgaria, Czech,Cyprus, 
Republic, Denmark, Estonia, Finland, France, 
Germany, Greece, Hungary, Ireland, Italy, Latvia, 
Lithuania, Netherlands, Poland, Portugal, Romania, 
Slovakia, Slovenia, Spain, Sweden, United Kingdom,

NO TAX / NO VAT

2-7 days

North America

United States

NO TAX / NO VAT

7-10 days

Europe,Oceania

Russia,  Australia

NO TAX / NO VAT

10-20 days

 Asia
Japan, South Korea,  Singapore
 

NO TAX / NO VAT

7-10 days

Shipping Partners
We currently maintain cooperative relationships with DHL and 4PX. Our commitment to our customers is to assure the delivery reaches its destination in the quickest manner with the lowest cost.
Warranty
 Policy
All Andream devices have a 1-year limited warranty.
Within 3 months of receiving the product, if your item is damaged (non-human damage) or defective, you only need to return it and we will send you a brand new device.
Within 3 months to 1 year of receiving the product, if your item is damaged (non-human damage) or defective, you only need to return it, we will repair it for you for free and send it to you again. (We will pay for the shipping cost of sending it again.)
For warranty support, please email us at tqmg@ewaygps.com.
This limited warranty does not cover failures due to abuse, accidental damage, or when repairs have been made or attempted by anyone other than Andream INC. No liability on this warranty shall be incurred in the respect to damage or loss occurring during transit to or from the purchaser. This warranty is personal to the original purchaser and is nontransferable. This warranty gives you specific legal rights and you may also have other rights which vary from state to state.
Refund Policy:
If the product has a hardware failure, please email tqmg@ewaygps.com within 30 days of original purchase for instructions on how to return Andream for a full refund or exchange.

Note:
Return shipping costs are responsibility of the buyer.
If you just want to replace the new equipment, we will send you the new equipment after receiving the returned package. We will pay the shipping cost to be sent to you again.
Great product
Installed it yesterday, very happy with it so far. Apart from music cutting out for half a second once in a while, everything is working perfectly. I installed it in a 2012 f31 with the original ENTRY head unit in it. Wasn't sure if this was going to work so i took the bet and it does work! Wireless Carplay didnt work first time I started the car, but worked fine after a restart. The display arrived in about a week. Shame there are no instructions in the box tho. But theres a bunch of tutorials on youtube, so if you're a bit handy this shouldnt be a problem at all. All in all very happy with this purchase! (Added before and after pictures)
Unos profesionales
Son unos cracks, cuando pones una estrella porque no te devuelven el dinero en las devoluciones, te borran el comentario, no os creais estás votaciones, borran los comentarios negativos, yo he tenido una experiencia horrible con ellos, me deben 255 euros
F30 CarPlay Head Unit 10,25 and Rear View Camera
First to the Head Unit:
I am very happy with the 10,25 screen. Shipping was very fast to germany, it took only 2 days. There were no problems with the toll oder taxes. Car Play works perfect and you can push your cars entertainment into the year 2020. Maybe you should think about buying the smaller 8,8 screen bc the graphic resulution will be a little better there and the 10,25 is really huge, it catches your view from the street sometimes. Installing instructions are not perfect but with YouTube videos it´s not very hard to install.
The Rear view camera:
Shipping took 11 days, no problem with the toll as well.
It is much harder to install. The installation instuctions you can request via mail are not very good bc the didn´t fit for my exact camera model. Wtih YouTube videos as well it was easier but still a lot of work to install.
The resolution of the camera is okay. You have to switch the original handle of the trunk with the new one where the camera is installed in. The new hanle of the trunk is made out of hard plastic so you need more power to open the trunk bc it´s not that easy to "click".
All in all i am very happy with the screen and the price is very good for what you get! The camera is good as well but not as good as the screen if you compare it.
If you have questions, just ask them via email, they respond very quick, sometimes with a small language barrier but it´s understandable.
ORDER WZANDREAM2454EU
Hola, estoy intentando conectar con ustedes para confirmar la cancelacion de la orden y no le llega los correos, me los devuelve, por lo tanto cancelo la orden WZANDREAM2454EU y me devuelvan el dinero, siento las molestias. Un saludo
instalacion camara trasera con pantalla
he comprado la pantalla y una camara trasera ORDER WZANDREAM2454EU y quiero que me confirme si se puede instalar la cámara a la pantallaya que si no puedo no me interesa y tambien veo en la descripcion que no lleva el conjunto de cable principal para hacer el puente con el nbt. Un saludo.
Yes, we have received your order and our camera is compatible with the product you purchased. We will send you the product next Monday. When you receive the product, you can send us an email and we will send you installation instructions. Our email:
jenly.ewayinggps@gmail.com
Bmw serie 1 f20/f21
Acept for bmw serie 1 f21/20 2012 ???
language
hello, is there also the italian language? if I order for Italy do I risk paying customs too?
Hello, our products can add languages for you, you do not need to pay any shipping costs to buy our product.