Andream 10.25" / 8.8" wireless Apple CarPlay + Android auto multimedia Head unit for BMW Series3 4 F30 F31 F34 F32 F33 F36 F80
SKU: EW960WADCP
 PRODUCT DESCRIPTION
This is a multimedia touch screen with built-in compatibility with Apple CarPlay and Google Android auto. It will replace your OEM screen and add the following features to your car:

Apple CarPlay (wired and wireless)

Android Auto (wired)

Play video or music from USB

The head unit Built-in microphone and supports Siri and Google Assistant either via voice keyword ('Hey Siri' / 'Okay Google') or by long-pressing the steering wheel voice button.
NOTE:

This unit is not an Android system. It must be connected to your phone (wired or wireless) to use

CarPlay

and

Android auto

functions. Without a mobile phone connected, you can only use the OEM system or simple music and video playback functions.
This unit outputs sound through AUX, please confirm that your car has AUX function before ordering.
This unit does not support AirPlay and screen mirroring.
HOW DOES IT WORK?
While the unit (CarPlay Head unit) is inactive, the original video signal is passed unchanged and your car works as before.

After activating the CarPlay Head unit, the CarPlay unit video signal is shown on the display instead.

When you reverse the car while using the CarPlay system, the system will automatically switch to the camera without manual operation.
You can easily switch back and forth between the box and your original head unit. (TIPS: Press and hold the "Menu" key to switch the system)

Using the CarPlay Head unit is optional and should be seen as an add-on and not as a replacement. 
COMPATIBLE MODELS:
BMW 3 Series
F30/F31/F34/F80      02/2012-11/2012
BMW 3 Series
F30/F31 (2012-2015)     F34 (2013-2015)
BMW 4 Series
F32 F33 (2013-2015)     F36 (2014-2015)
Our products are compatible with the CIC/NBT system. If your car is EVO system, it will not work. 
NOTE: Please make sure your car has AUX function. The CarPlay head unit outputs sound through AUX.
PRODUCT FUNCTION
Plug and play, no coding.
Compatible with all original OEM features. Contains steering wheel buttons, iDrive knobs, parking sensors, cameras, and more.
Switch to CarPlay or original system freely (press "Menu" Button on iDrive controller over 2 seconds to switch between two system easily).
Wireless or Wired Apple CarPlay(AirPlay is unavailable)
Wired Android auto(Screen mirroring is unavailable)
Siri voice control, knobs, buttons or touchscreen
Compatible original parking sensors
Compatible original cameras and aftermarket cameras(Front camera, Rear camera and 360-degree camera. Automatic switching when reversing)
PRODUCT INFORMATION
Product name:  10.25" / 8.8" wireless Apple CarPlay + Android auto multimedia Head unit  for BMW Series3 4 F30 F31 F34 F32 F33 F36 F80
Brand:  Andream
Place of Origin: 
Guangdong, China
SKU: EW960WADCP-P
Warranty Policy:
  1
-Year warranty
Screen size:  

10.25" / 8.8" 
Screen type:  IPS
Resolution:  1280*480
WIFI:  Built-in
USB port:  1
PACKAGE

Single Package Size: 32cm*20cm*16cm
Single gross weight: 3KG

1 * Touch Screen
1 * Power Cable
1 * USB Cable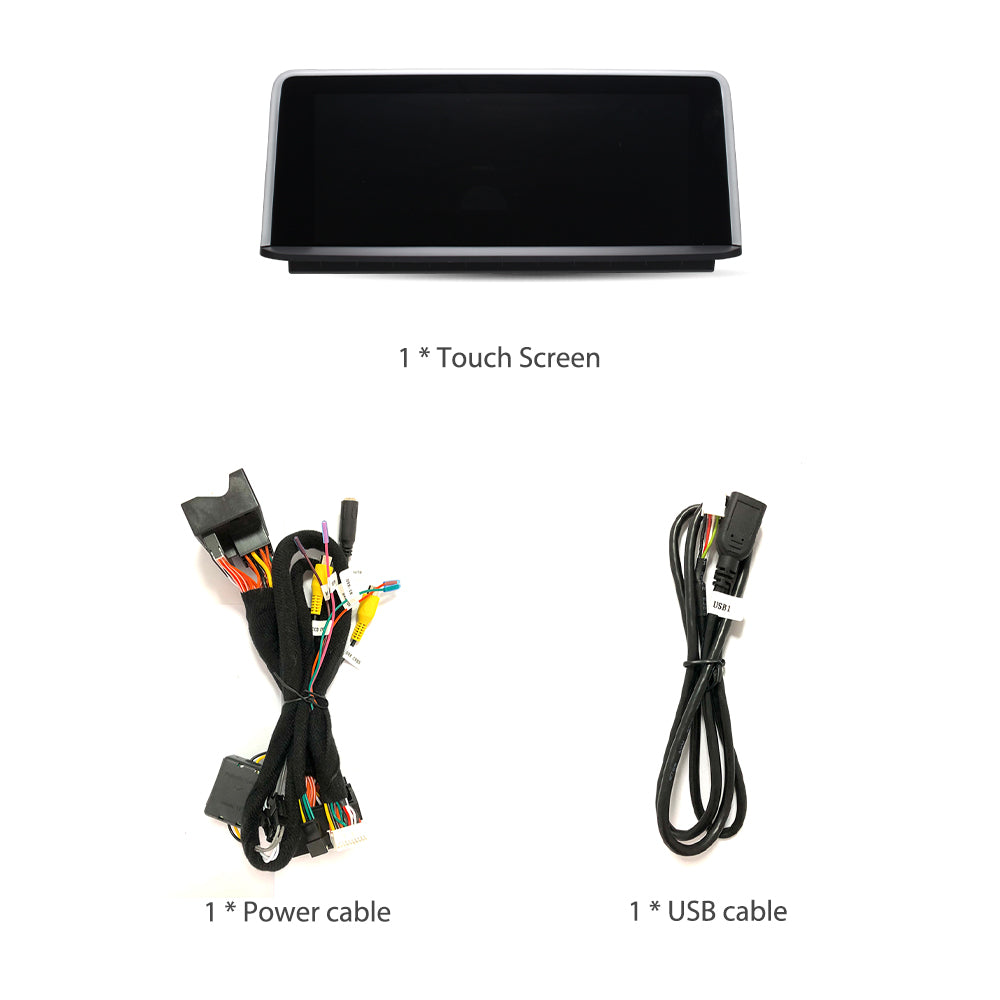 SCREENSHOT OF SETTINGS:












Shipping
The countries we can currently send to include the United States, the European Union, Russia, Singapore, Australia, New Zealand, Japan, and South Korea. Customers in other countries please consult online customer service.
Shipping cost: We offer FREE international shipping as standard 
Tax: No Tax / No VAT
Order processing time: 1-2 working days
Shipping time:
Shipping country list

Delivery Time

EU countries

Austria, Belgium, Bulgaria, Czech,Cyprus, 
Republic, Denmark, Estonia, Finland, France, 
Germany, Greece, Hungary, Ireland, Italy, Latvia, 
Lithuania, Netherlands, Poland, Portugal, Romania, 
Slovakia, Slovenia, Spain, Sweden, United Kingdom,

NO TAX / NO VAT

2-7 days

North America

United States

NO TAX / NO VAT

2-7 days

Europe,Oceania

Russia,  Australia

NO TAX / NO VAT

10-20 days

 Asia
Japan, South Korea,  Singapore
 

NO TAX / NO VAT

7-10 days

Shipping Partners
We currently maintain cooperative relationships with 4PX, DHL, CNE and UPS. Our commitment to our customers is to assure the delivery reaches its destination in the quickest manner with the lowest cost.

Shipp Details
After the package is sent, you will receive an email with shipping information.
At the same time, we will also provide you with a Logistics tracking number through paypal.
Of course, you can also enter the logistics tracking number to query logistics information through the logistics website:

DHL:https://www.dhl.de/en/privatkunden.html
CNE:https://www.cne.com/English
UPS:https://www.ups.com/hk/zh/Home.page
Errors & Omissions for Transportation
We do our best to ensure that the goods arrive the customers safely.
If you find any omissions or damages during the receipt, please keep the outer packaging in time and contact us via email (tqmg@ewaygps.com) or messenger and provide us with evidence.
If the logistics information shows the receipt, but you did not get your product, please contact your local logistics service provider (local post) in time. And provide us with the corresponding evidence, and we will make an inquiry for you.
All claims for loss, damage or delay must be filed within twenty (20) days following the date of delivery or the date on which delivery should have occurred .
Under normal circumstances, we will provide you with a solution within 60 days.
Taxes and Duties
If you choose to send from China, the seller will be responsible for paying taxes. When the goods are delivered to you, you do not need to pay any customs duties.

If you choose to send from Germany,once the parcel reaches its destination country that your order may be subject to customs or import duties that are charged .
According to laws and regulations, these fees need to be paid by the recipient, and we cannot control the specific amount, as customs policies and import duties vary widely from country to country.Customs duty is charged as a percentage of the total value of the goods. The specific ratio will vary according to the policy of the country being sent, but on average is between 3% and 9%.
We generally try to reduce the declared value of the package to reduce taxes and fees, but you may still need to pay a small amount of customs fees.The proportion of this situation is about 1%, so you don't need to worry about it.

If you have other questions, please be sure to contact us:tqmg@ewaygps.com
Refund Policy:
If the product has any unsolvable technical problems, please email
tqmg@ewaygps.com
within 2 years(subject to logistics display delivery) after receiving the goods for instructions on how to return product for a full refund or exchange or maintain. Our products support 30 days return, 6 months replacement and free maintenance service within two years.Some products only provide one-year maintenance service, please refer to the product page for details.
To start a return, you can contact us at tqmg@ewaygps.com. If your return is accepted, we'll tell you how and where to send your package. Items sent back to us without first requesting a return will not be accepted.
Note:
For orders over 30 days, we do not provide refund service. But you can replace it.
Return address:Note:
Products should be returned to our specified warehouse. We will not refund you if you send back to another location without permission.So please contact us before preparing to return or replace the product.
Street:422, Avatar Native Intangible Cultural Industry Park, Shayi Community, Shajing Street
District:Bao an
City: Shen zhen
Postcode:518101
Country: China
Tel:+86 15683390715
Please check the address with us again before returning the package.
Return cost:
The cost of returning the product shall be borne by the buyer.
Damages and issues
Please inspect your order upon reception and contact us immediately if the item is defective, damaged or if you receive the wrong item, so that we can evaluate the issue and make it right.
Refund time:
If you need a refund,we will notify you once we've received and inspected your return, and let you know if the refund was approved or not. If approved,we will refund you within 7-10 days after the refund is approved(The refund will arrive in your original payment account). Please remember it can take some time for your bank or credit card company to process and post the refund too.
If you need to replace the product, then we will confirm the address with you after receiving the returned, and send you a brand new product within 2-3 working days, you do not need to bear any other costs.
Other charges:
There are no ohter charges
You can always contact us for any return question at
tqmg@ewaygps.com
.
Good for the price some bugs but works fine
The installation was straight forward. Just search on youtube for an installation Video. There are minor bugs in the software and the built in Bt audio for phonecalls is not as good as the oem of bmw, but you can choose to keep the oem bluetooth for phonecalls. In Android auto it shows you, you would have not bt connection, but it works fine by using the oem bt for calls. I used to have the tiny 6,5" display and for fullscreen oem userinterface i had to code two items with bimmercode so i also can use oem fullscreen ui. Then i did choose in the units option in the settings the 8,8 screen an now it shows oem UI fullscreen. sometimes, when switching vom AA to the oem UI i have for several seconds distortions on screen. This appears after the car was in deep sleep. It also takes in this case several seconds before the screen shows a picture. I am in contact with the good supprt of andream and they are busy to solve the picture distortion. Maybe i coded not correctly... My original reverse camera is working, it switches to the oem ui as soon as i push the button oder shift to reverse. the bigger screen is really good and has a way better resolution as the old 6,5". Under Android the oem camera doesn't work, but i am fine with using the oem view. Android auto wired works very good and snappy. It is the cheapest way to upgrade your car with a navigation. despite the fact the system won't let me force dark screen for google maps - it switches to day mode the next time i drive. Under factory settings the system is not reminding if i check bluetooth oem but i did not pair my mobile with the bt of the screen so it still uses the oem hands free for calling. In the factory settings it always switches to "afterload" to be checked it does not save my chosen checkbox.. I use media monkey for music, it works very good. Answering WhatsApp messagen over voice works very good too.
i also tried wireless android auto, but in comparison to the wired solution it is very laggy.
The screen is very glary, but as i read in some threads i will try to apply an anti glare screen protector. The touch screen is a bonus an works just fine. I hope the bugs are beeing erased by future updates. A manual explaining all the options under "factory settings" would be a thing. All in all for its price it is good. The bigger screen even when only using the oem ui is great.
Could be better
I bought 8.8" version, which is enough for me, 10.25 is too big for my taste. When starting the car it takes aroud 5s for screen to show picture, voice comes before, it is little lagy but all in all is not too bad. Screen has no antiglare protection, it shines really bad there is a lot of reflection, this really bothers me. Also the silver bezel around the frame shines in front glass. I have ordered antiglare foil, I hope it will reduce reflections. Brightness could be little better too, it does not match the original display. Android auto works OK, too bad it does not work wirelessly but only by cable. There is no instructions for installation, fortunately there is a lot of youtube videos. But hard too find how to install rear camera.
Perfect
I have a BMW 318d 2013, and It's perfect
Easy to install and works perfect!
Very happy with it!
Great product
Installed it yesterday, very happy with it so far. Apart from music cutting out for half a second once in a while, everything is working perfectly. I installed it in a 2012 f31 with the original ENTRY head unit in it. Wasn't sure if this was going to work so i took the bet and it does work! Wireless Carplay didnt work first time I started the car, but worked fine after a restart. The display arrived in about a week. Shame there are no instructions in the box tho. But theres a bunch of tutorials on youtube, so if you're a bit handy this shouldnt be a problem at all. All in all very happy with this purchase! (Added before and after pictures)
Great screen!
Great product but I didn't get a card reader cable with my kit…
Hello,
Do you mean the 4G LTE cable? This is a Carplay screen and does not have this cable.
Love it
I didn't had any problems while installing. Works great! Touchscreen works as it should and it's not slow at all. The wireless Carplay works perfect. It really transforms the interior of your car. I would recommend this. The quality is pretty good for this low price. Don't hesitate.
Good Product
Really good Product,
Much cheaper than OEM screens from BMW.
Only handsfree does not work as expected.
Everything else works Perfect.
10.25 " Screen
Fast delivery. I did something wrong while building it in but the support did help me fast and friendly to fix it!
Satisfeito mas…
Boa noite, apesar de satisfeito estou com alguns problemas, sempre que quero usar o CarPlay tenho de emparelhar com o iPhone gostaria de conseguir corrigir isso. Outra situação é que após a montagem tanto a unidade como o rádio só funcionam com a ignição ligada. Se me puderem ajudar agradeço. Inclusive quero encomendar uma câmera traseira.obrigado
No instructions and almost non existent tech support
Installed on 2012 stock BMW F30.
As per the title, you are given no installation instructions, no warning paperwork whatsoever. I reached out to the original supplier and they eventually provided a very very basic YouTube video, which is upgrading from a box to a display.
The product itself is quite good once installed. The USB cable provided is off good quality and length. The display gets plenty bright but sometimes the Android Auto may stutter with Spotify or the maps do not display in night mode.
There are many cables for different additions, however there is no info on what each cable is for and what additional items one could add. No info for initial set up so not for a non-tech savvy consumer.